'LDS' Dating Sites*
Along with LDS Passions (the site you are on now), as mentioned above, the sites listed below all focus on Latter-day Saints singles. The sites listed below range from those focused on Mormon dating to others focused on Mormon singles chat. The primary goal is to connect people who are members of the Church of Latter-day Saints. Each site, regardless of the company running it, shares many of the same characteristics as many of the other sites. So, if you are looking for a great dating site focused on LDS singles, then there are a LOT available. Look below to find the one that seems like the best fit for you.
NOTE:
LDSPassions.com is not owned or affiliated with The Church of Jesus Christ of Latter-Day Saints in any way. The terms LDS, Mormon and Latter-day Saints are all trademarks of The Church of Jesus Christ of Latter-day Saints and are simply used within this site to represent members of The Church of Jesus Christ of Latter-day Saints. The use of the terms LDS, Mormon, and Latter-day Saints are purely nominative. There is absolutely no endorsement or connection or affiliation between LDS Passions and The Church of Jesus Christ of Latter-day Saints. Likewise, none of the sites listed on this page are affiliated with, owned by, or endorsed by The Church of Jesus Christ of Latter-day Saints in any way either. The sites listed below are simply websites allowing individuals who share a common interest to meet online.
AD

Online LDS Dating
Sign Up And Search Thousands Of LDS Singles Near You
If you are a member of the Church and you are seeking fellow members for dating, romance, companionship and more, but most importantly, members who share your faith, then Online LDS Dating could be for you.

LDS Dating Connexion
LDS Personals Online
LDS Dating Connexion is one of a handful of online dating sites offering members the option to connect with others who share their religious beliefs. While the site is open to members of many different religious denominations, upgraded members can limit their search results to those who identify as Mormon. Join for free today.

Find LDS Singles
"Meet Local LDS Singles Who Share Your Beliefs"
If you are someone who places a great deal of importance in your faith and your beliefs, then you may enjoy Find LDS Singles. It has been created to help connect like-minded members seeking a serious relationship with someone of the same faith.

LDS Senior Next
"Meet Mormon Seniors Seeking Romance!"
"If you are looking for a dating site catered towards Mormon singles ready to embrace a new chapter in life. Meet LDS singles over 50, and find someone who shares your faith & lifestyle today!"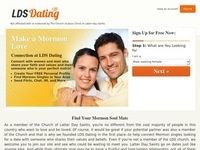 LDS Dating - Canada
Find Canadian LDS Singles Today
If you enjoy spending time with someone who knows and shares your religious views and ideas about marriage and family and you identify as Mormon, the LDS Dating - Canada hopes to help you connect with LDS singles from across Canada.
AD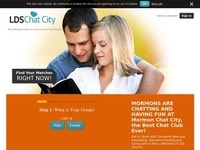 LDS Chat City
Chat With Mormons Online Right Now
If you are looking for a fun site where you can connect with others LDS singles for chat, then LDS Chat City is the site for you. Join and begin interacting with others who share your faith.
LDS Planet
Meet LDS Members Near You Today
LDS Planet is part of the larger 'People Media' network with a focus on connecting singles on many different sites. Members of LDS Planet are members of the Mormon community and as such may find the site to be a good way to meet one another online.
LDS Pals
"Free LDS Singles Online Personals"
Launched in 2001, LDS Pals is one of the first LDS dating sites online. With a focus on connecting members of the Church in a fun, feature-rich site, it has grown over the years with many people connecting through it.
True LDS
"Meet compatible LDS Singles"
TrueLDS is 100 percent owned by fellow Latter-day Saints with thousands sealed in the Temple. If you are interested in meeting other serious singles, you might like True LDS.
LDS Dimension
Find Local LDS Members
LDS Dimension was founded and built by LDS members for LDS members. LDS Dimension has been created to help make it easier for LDS members to connect. With a focus on safety and simplicity, it might be a site worth considering.
LDS Widows
Free LDS Dating
Created in 2004, LDS Widows aims to help connect LDS widows and LDS widowers. Along with the site, there is a Facebook group. While a bit different than the traditional online dating site, who knows, LDS Widows may be where you meet someone special.
AD
*Sites listed on this page are a combination of ads, affiliate related Sites and general non-partnership related sites that match the theme of LDS Passions.